Energy Monitor 4 is a battery performance and temperature monitor for Android phones and tablets and Wear OS smart watches. You can monitor devices remotely, predict your battery life for the day, and always know in good time when your battery is draining faster than usual.
This guide explains the different ways you can use this app to most effectively monitor your battery life, the terminology used throughout the app, and which notifications and settings you can use to get the best results for your particular case.
Topics: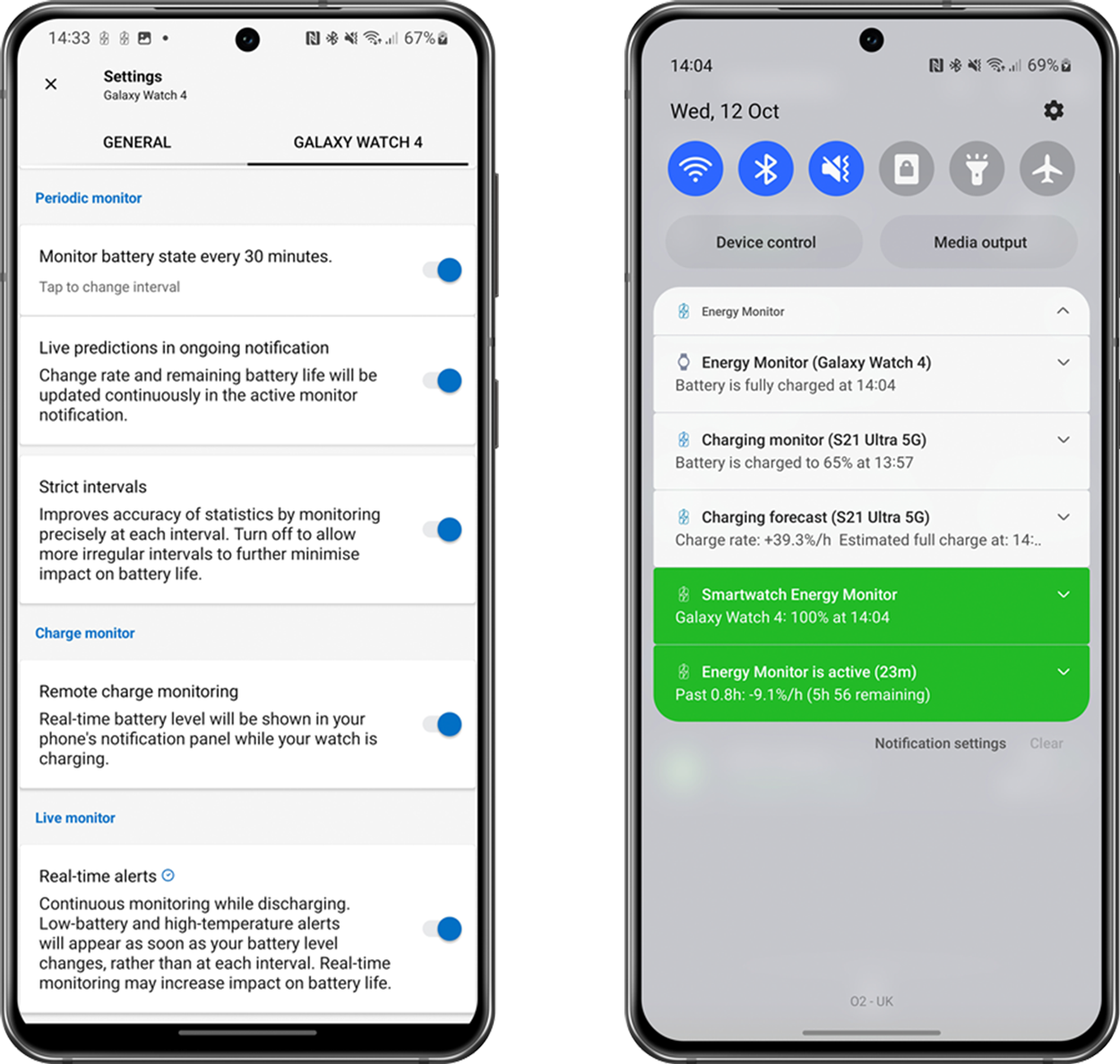 Glossary of app terminology
The following terms are used frequently throughout the app to describe battery status and performance:
Change rate – Speed at which your battery is either charging or discharging in % per hour
Charge rate – Speed at which your battery is charging in % per hour
Charging – Device is charging via USB cable or wireless
Discharging – Device is running on battery power
Drain rate – Speed at which your battery level is depleting in % per hour
Predicted life – The length of time that your device battery is expected to last from fully charged to completely empty. This is calculated from your current drain rate and battery level.
We may use the following terms to distinguish device and connectivity types:
Current device – the device you're currently using
External device – devices connected externally to the one your currently using (smartwatches, on-cloud remote devices)
Remote/cloud device – a device connected over the cloud
Handheld device – phones, tablets, and notebooks (non-wearables)
Wearable device – a smartwatch
Notifications
All alerts are customisable in the device settings menu, so you can have a monitor enabled but only choose to have the notifications that are relevant to you. You can tell exactly when each notification was issued by checking its timestamp. When you plug your device into a charger, all outstanding notifications will be cleared automatically.
ℹ️ You must configure notification and monitor settings for each individual device; settings are not shared across all devices.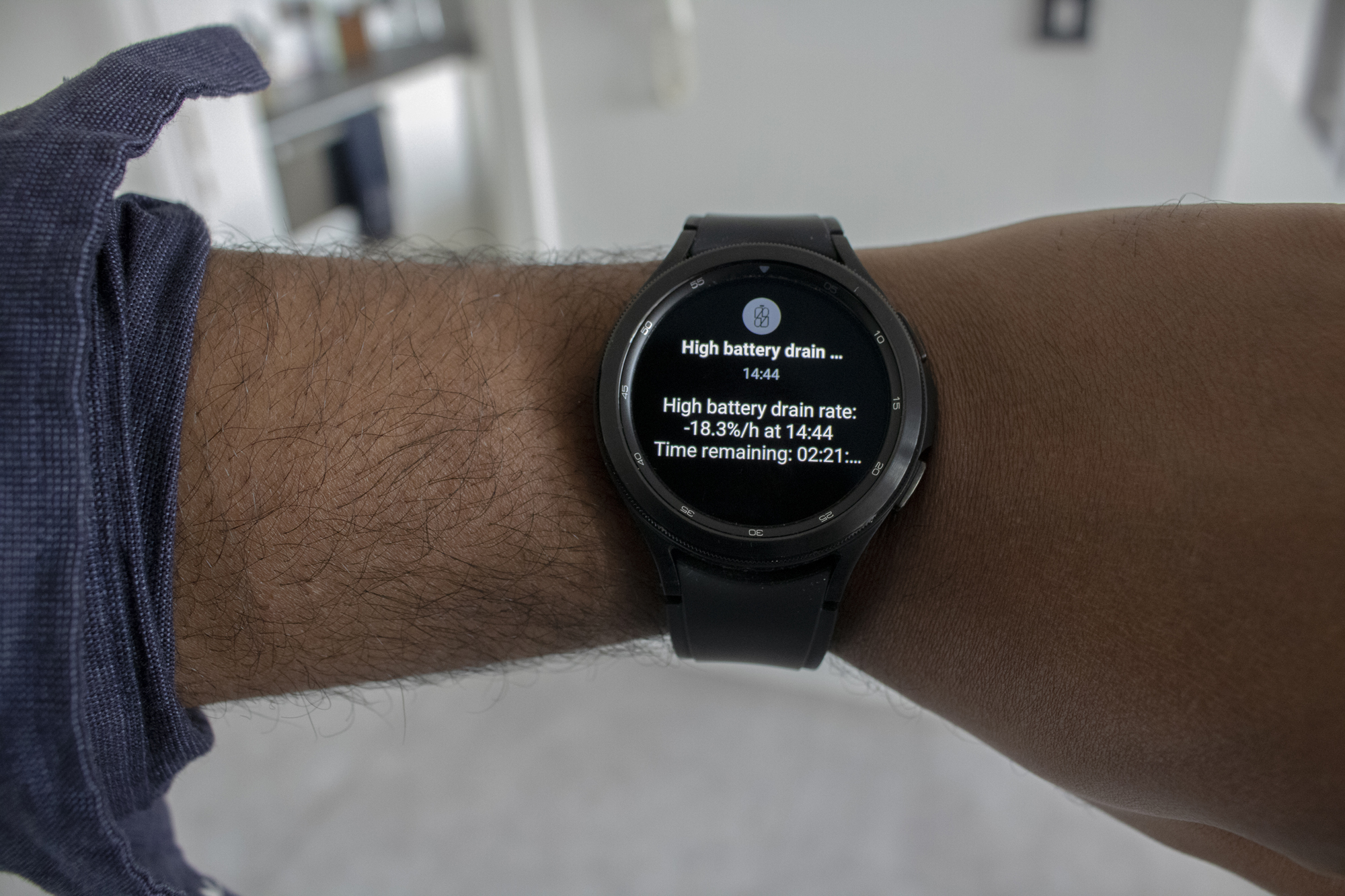 1. Daily Forecasts
This notification was introduced to alert you early on when your device is more likely to run out earlier in the day than you might expect. This is normally issued within an hour of removing your device from the charger (depending on your interval setting). Your current discharging speed in % per hour is included in the alert, along with the predicted life for the day in hours. Bear in mind that your drain rate will likely vary throughout the day depending on how you use your device over time.
2. Charging Forecasts
This notification will be issued shortly after you start charging with a measure of your charging speed in % per hour, along with the estimated time remaining until a full charge.
3. High-drain warnings
As you use your device throughout the day, certain activities may use more power than usual. A high-drain alert will be issued whenever your device's drain rate exceeds a set threshold (normally 10% per hour by default), with an estimate how long your device is expected to last with the current rate of use. This is designed to prevent you from being caught off-guard with a low battery.
4. Low-battery warnings
This will alert you whenever your battery reaches the thresholds you set while your device is discharging (running on battery power). You can set as many of these as you'd like. These are issued on intervals with the periodic monitor, and immediately with the live monitor activated.
💡 Pro tip: To keep your Lithium-ion (Li-Ion) batteries in good condition, it is recommended that you recharge your battery when it reaches 30 – 40%. Allowing your battery to regularly run empty will reduce its total capacity over time.
5. Charging progress
This will alert you whenever your battery reaches a level that you choose while your device is charging. You can set as many of these as you'd like.
6. High temperature warnings
Alerts you when your battery exceeds a temperature level you set. High-temperature warnings will be issued on intervals with the periodic monitor, and immediately with the live monitor activated. 
Ongoing Notifications
The app must run continuously in the background in order to monitor your battery and issue notifications throughout the day, as per the Android system rules for apps processing any task in the background. While the monitor remains idle most of the time, the impact it will have on your battery life will be determined by the monitors you have enabled as described below.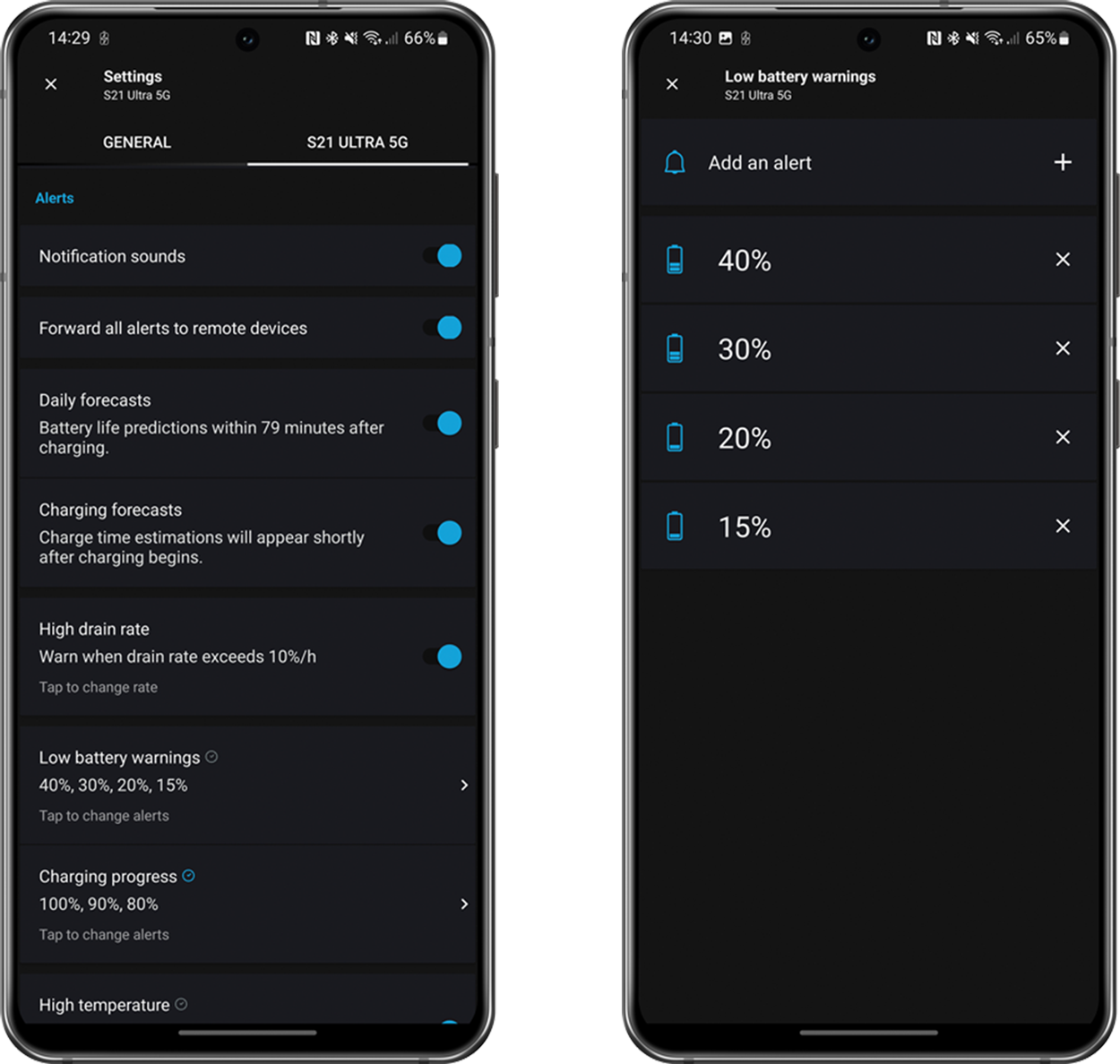 Monitoring methods
You can toggle each of the following monitors independently in top half of the device settings menu (2nd tab), and combine any of them to suit your use case. For the purpose of this guide, we've given each of them an 'energy use score' to show how much power they consume in relation to one another.
1. Periodic monitor
The periodic monitor measures your battery between intervals, and issues alerts based on changes in battery level and temperature over time. This is the most energy-efficient way to monitor your battery level since the app remains idle and consumes no battery power between those intervals. The shorter the interval, the higher the accuracy of your statistics, and the more timely your alerts will be. Longer intervals (more than 30 minutes) will be more energy efficient, but may be slightly less accurate compared to more frequent monitoring with a shorter interval.
On each interval, battery level and temperature notifications will be issued. You'll receive your daily forecast notification within an hour of you taking your device off the charger every day. High drain notifications will be issued throughout the day if your device is consuming power at a higher-than-normal rate. You can customise all of these alerts and their thresholds in the device settings menu.
Notifications:
Daily forecast
Low battery level
High temperature
High-drain warnings
Energy use score: 1 (minimal impact)
2. Charge Monitor
Monitors your battery continuously while it's charging. This lets you know exactly when your battery reaches each level of charge. Shortly after you start charging, a charging forecast alert will be issued to let you know an estimate of how long it will take for your device to reach a full charge based on your usage. Your charging speed may vary over time depending on how you use your device while it's charging. The charge monitor is active while your device is plugged in; this will have no extra impact on your battery life.
Notifications:
Charging forecast
Charge level reached
Energy use score: 0 (no impact)
3. Live Monitor
Measures your battery level every time your battery level changes throughout the day. This supersedes the Periodic Monitor and issues any low-battery or temperature notifications as the moment your battery level reaches that moment.
This method monitors your battery more frequently than the Periodic Monitor, and thereby will have slightly more of an impact on your battery life.
Notifications:
Low battery level
High temperature
Energy use score: 2 (moderately intensive)
4. Smartwatch Energy Monitor
This allows you to see the current battery level of all of your connected watches from the notification panel on your phone without opening the app. You'll find this at the top of the general settings menu on your handheld devices, and you can set an interval for all of your watches to send an update to your phone.
This is the most intensive of all monitoring methods, as it involves more frequent bluetooth communication between your handheld device and connected watches. However, the overall impact is likely to be small.
Notifications:
Ongoing notification with current battery levels of all connected watches.
Energy use score: 2.5 (moderately intensive)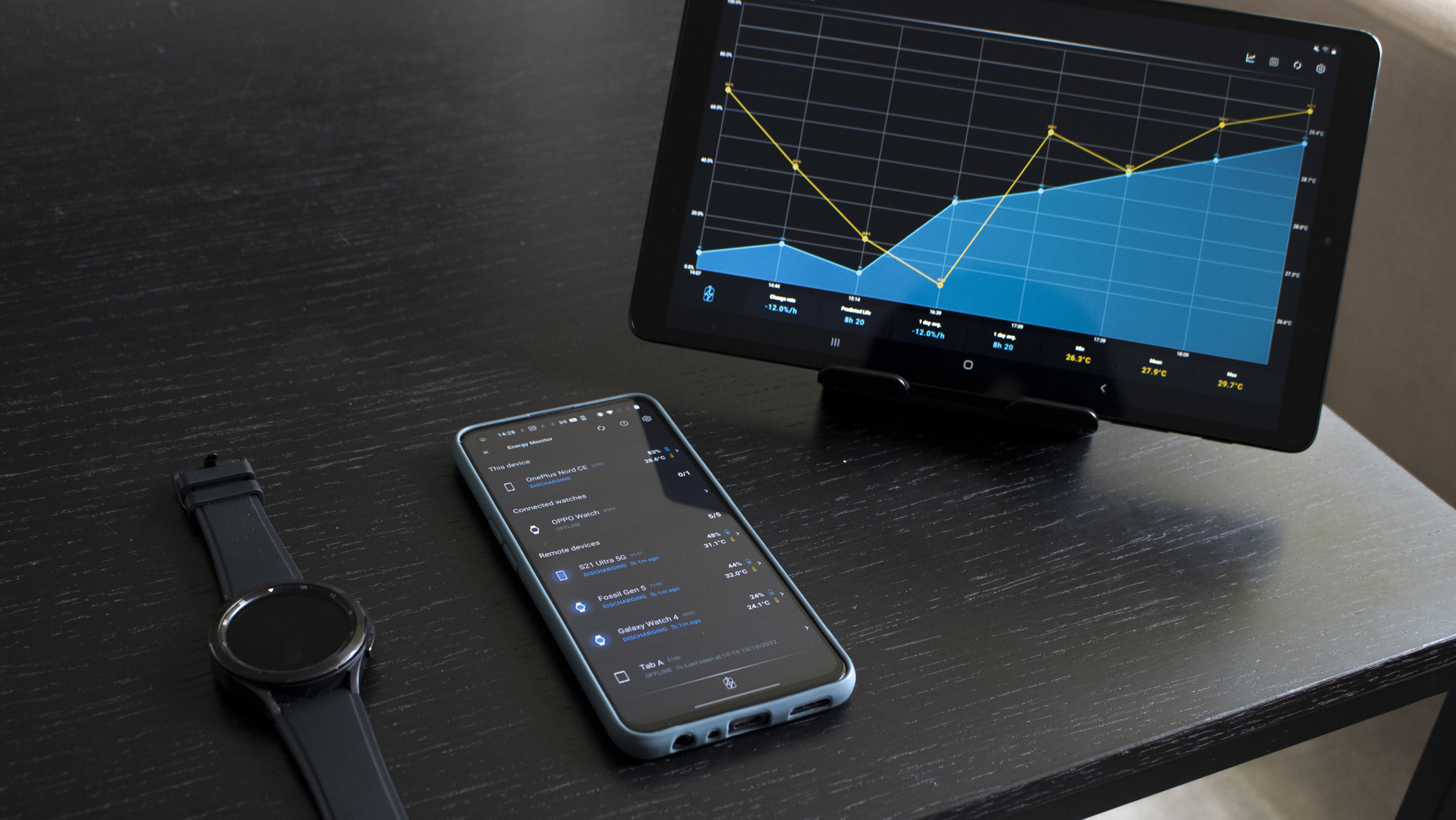 It is crucial that an app designed to help you to get the most out of your device batteries does not consume too much power itself. With this in mind we've been especially careful to make each of these monitoring methods as efficient as possible. Only the features with the least impact on battery life are enabled by default, and it is up to you, the operator, to enable the more power-intensive features to suit your specific requirements.
Energy Monitor is meticulously designed help you to stay mindful of your battery use throughout the day. Be sure to keep the app up to date; we're always working on improving these features and adding new ones, such as the remote device monitor introduced in version 4.4. As always we welcome your feedback so we can continue to provide better apps and services in future.
Thank you for downloading!
Download Energy Monitor on Google Play

Follow us on Instagram, Facebook and LinkedIn.