Mariner GPS Dashboard is a versatile GPS dashboard app for sailors of all kinds of marine vessels. Use Mariner to records your journeys, automate your logbook, and see live navigational data to improve your situation awareness. This guide details the capabilities of the wearable app and how to get it up and running on your Wear OS smartwatch.
Topics: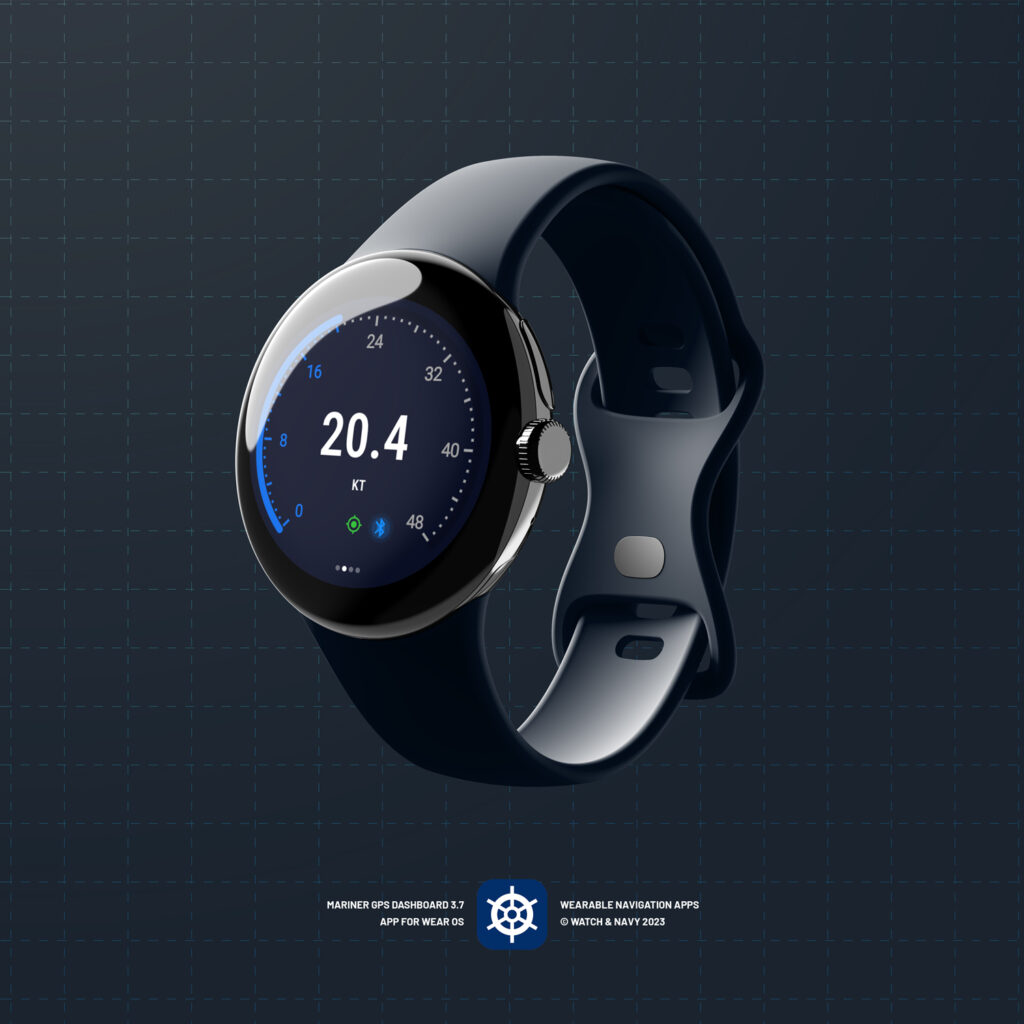 The RAMS series (Road Air Marine Speedometers) is a range of handheld and wearable GPS Dashboard apps tailored specifically to different modes of transport; Velocity for land vehicles and Mariner for marine vessels.
Download and Install
Download Mariner GPS Dashboard from the Play Store on your watch. You can do this from your desktop browser while signed into your Google account, or directly from the Play Store app on your watch.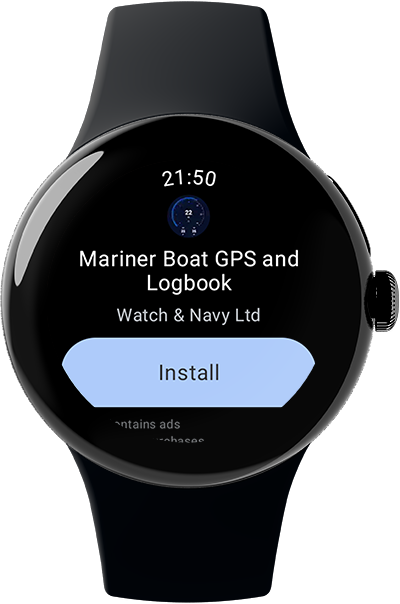 Map of displays / quick reference guide
Mariner for Wear OS is designed for easy switching between data displays, and for each display to be legible at a glance while sailing. Swipe up and down to navigate between each section. Tap ›› on any statistic display (time elapsed, distance, average and top speeds) to cycle between them. Using your watch's crown or rotating bezel is the fastest way to move between displays.
Refer to this handy Quick Reference Guide to learn where each of the displays are: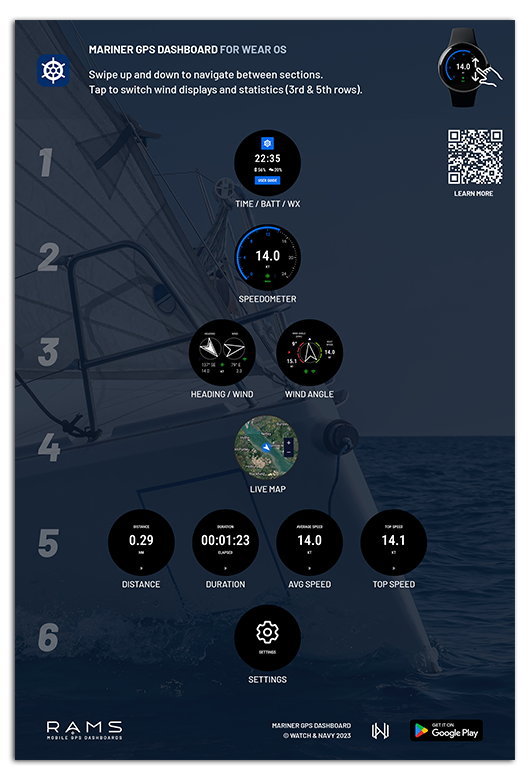 Starting the app / recording journeys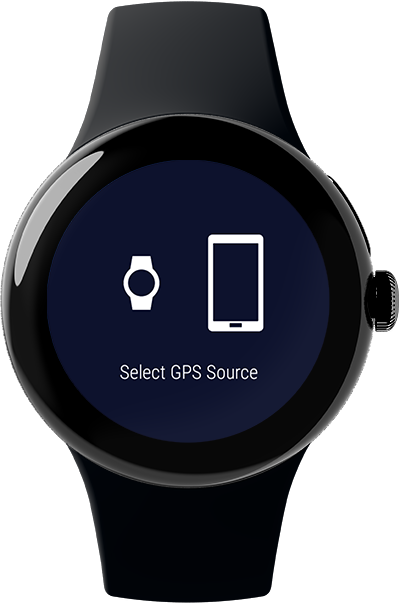 When you start the app for the first time you will be prompted to select your preferred connectivity mode for the app: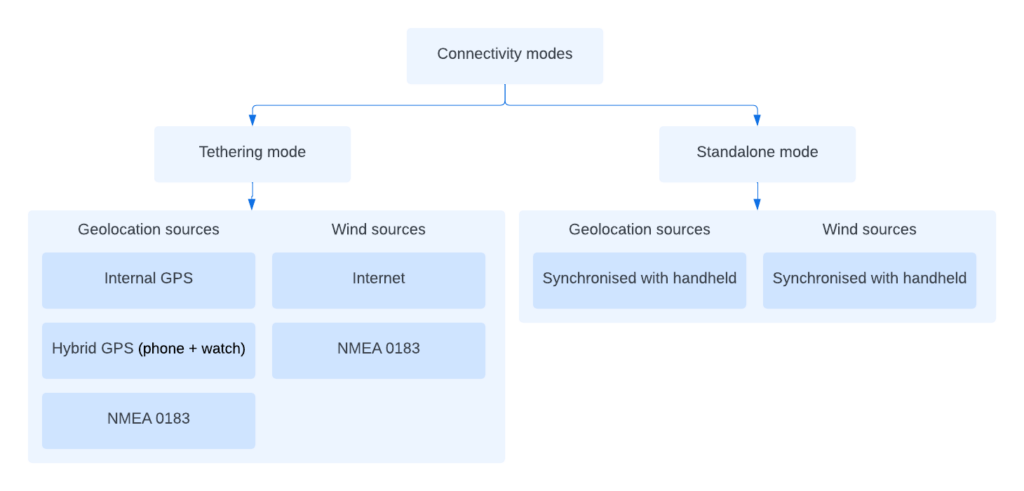 1. ⌚️ Standalone mode: internal GPS, hybrid GPS, and NMEA
Internal GPS primarily uses the GPS capability built into your smartwatch. GPS hardware in watches may be subject to more latency than phones and tablets due to their smaller size. By default, the app uses a 'hybrid mode' – combining GPS signals from both your watch and paired handheld for more accurate and timely location updates. Alternatively you can choose to always use the watch's internal GPS alone by switching off hybrid mode in the settings menu.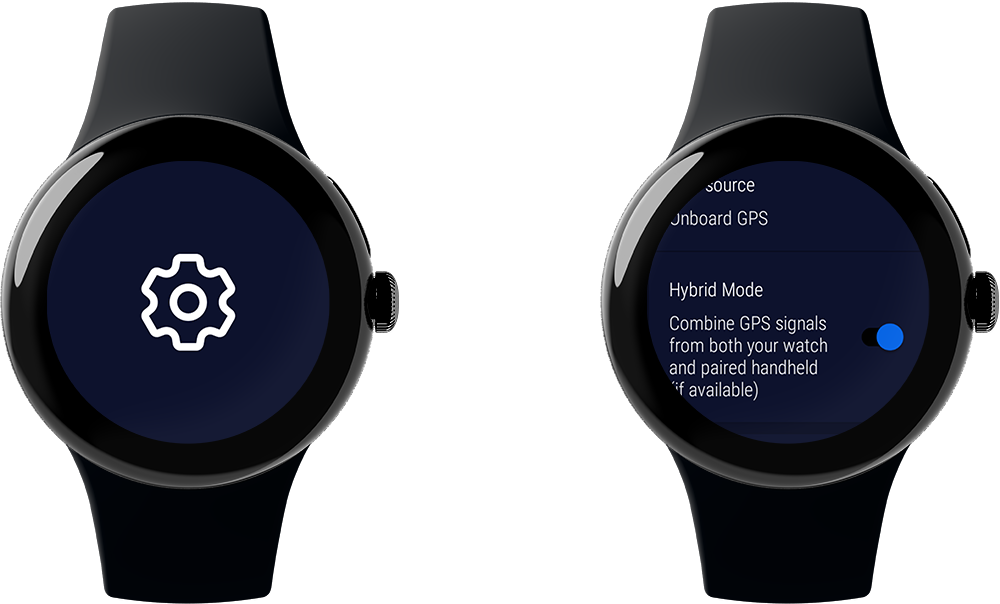 💡 You don't have to have the app installed on your handheld device to use its signals in hybrid mode.
ℹ️ Journey recording and storage is not available in Standalone mode due to the limited memory and battery capabilities of smartwatches
2. 📱 GPS tethering mode (sync with paired handheld app)
In tethering mode, your recording session will be synchronised with the app on your paired smartphone. All journey statistics will be mirrored from the phone, and your watch will act as a secondary display.
When you start a journey in tethering mode, your watch will attempt to start the app on your phone and begin recording your journey. On some phones, and depending on your system settings, you may have to start the app manually if the system is in sleep mode. You may need to change your power management settings allow Mariner to start up in the background.
Starting and stopping journeys
The app will start a new journey session automatically when you start the app. You can change this in settings with the 'Automatic start' setting. To start a journey manually, tap and hold on the screen to start the session. A single tap will prompt you to tap and hold. The 'tap and hold' action is a safeguard to prevent you from activating the GPS when you don't intend to.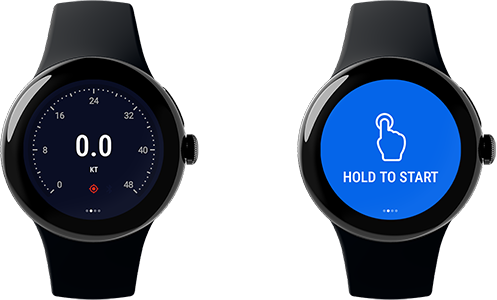 While you have an active journey session, tap on the screen for the pause and stop controls; the continue button below will dismiss these controls. If you are in tethering mode, these buttons will control the journey/recording session to your phone.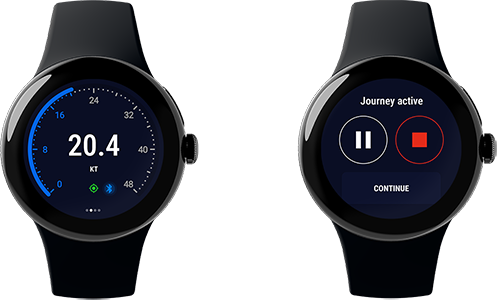 Wind displays – speed, direction, and angle
1. Heading & wind mode (weather from internet)
Swipe right-to-left on the speedometer display to switch to Heading & Wind mode. Your watch will pick up local weather information from the internet and display it alongside your boat speed and direction. Below the directional arrows you'll see the heading and wind direction in degrees, and their corresponding speeds underneath.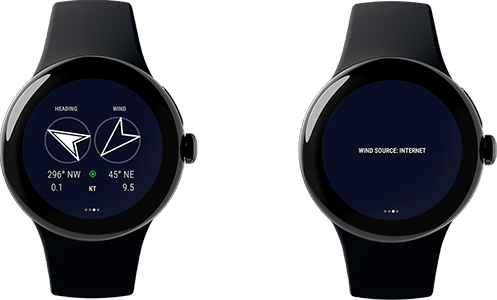 Tap on the Heading & Wind mode display will show the current Weather source. If you are in GPS tethering mode and you have SailTimer as your wind source, the live wind direction data streamed from your phone into the wind section and a bluetooth signal indicator will appear to the bottom-right of the wind direction arrow.
Internet weather data is currently sourced from OpenWeatherMap.
2. SailTimer wind angle mode
📱 GPS Tethering mode only.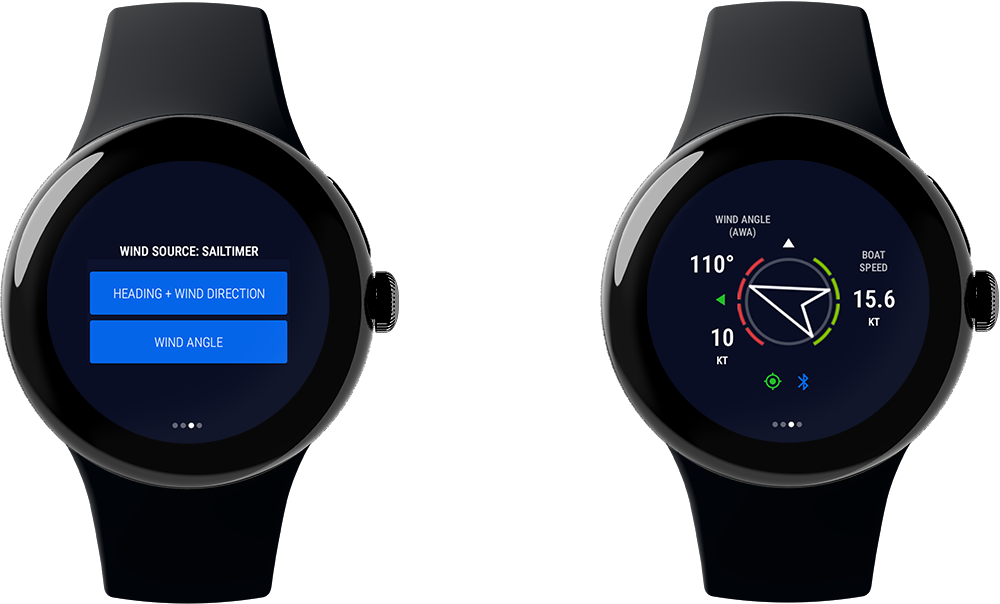 If you have a SailTimer Wind Instrument connected to your phone you can stream live wind angle data onto your watch while in tethering mode. Tap on the Heading & Wind mode screen to switch to the SailTimer Wind Angle mode.
Read the following article to learn about the SailTimer device and how to get set up:
Signal indicators
The following two indicators will appear on the speedometer depending on the GPS source that you set:

GPS Connectivity

The three-colour blinking signal indicator is used across the dashboards so you'll be able to quickly gauge your signal strength at any time.
Bluetooth connectivity
📱 GPS Tethering mode only.

In tethering mode your bluetooth connection status will be indicated on the speedometer view with one of two colours. This indicator will appear amber while the watch waits for the first signal from the smartphone app, or if it loses connectivity during your journey session.
Designed for all kinds of watercraft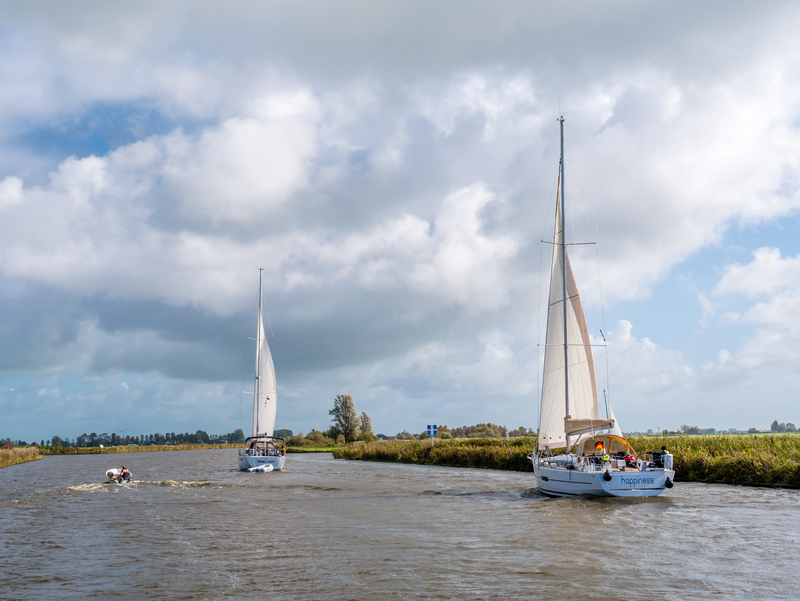 Mariner is designed to utilise the latest mobile and wearable tech to bring better navigational awareness to sailors of all kinds of crafts. While the app can serve as a useful aid to navigation and safety, it is important to remember to keep your focus on your surroundings and prioritise the safety of yourself, your crew, and other vessels at all times.
Check out the handheld version of Mariner for more useful capabilities such as logbook automation, travel time estimation, and journey data exports.
We're always working to improve Mariner for Wear OS and Android. We welcome your feedback so we can prioritise what matters to you most in the next release.
Download Mariner GPS Dashboard for marine vessels on Google Play:

Follow us on Instagram, Facebook and LinkedIn.