MARINER


Mobile GPS Cockpit and Route Estimation Tool for Marine Vessels
THE JOURNEY IS THE REWARD
A comprehensive sailing dashboard for your Android Smartphone and WearOS watch. The handheld speedometer interface provides speed, directional and weather awareness for pilots of small leisure watercraft and larger boats.
Mariner's live map and course planner enables you to calculate how long your journeys will take at any specified speed and set a course on the map to guide you on your way.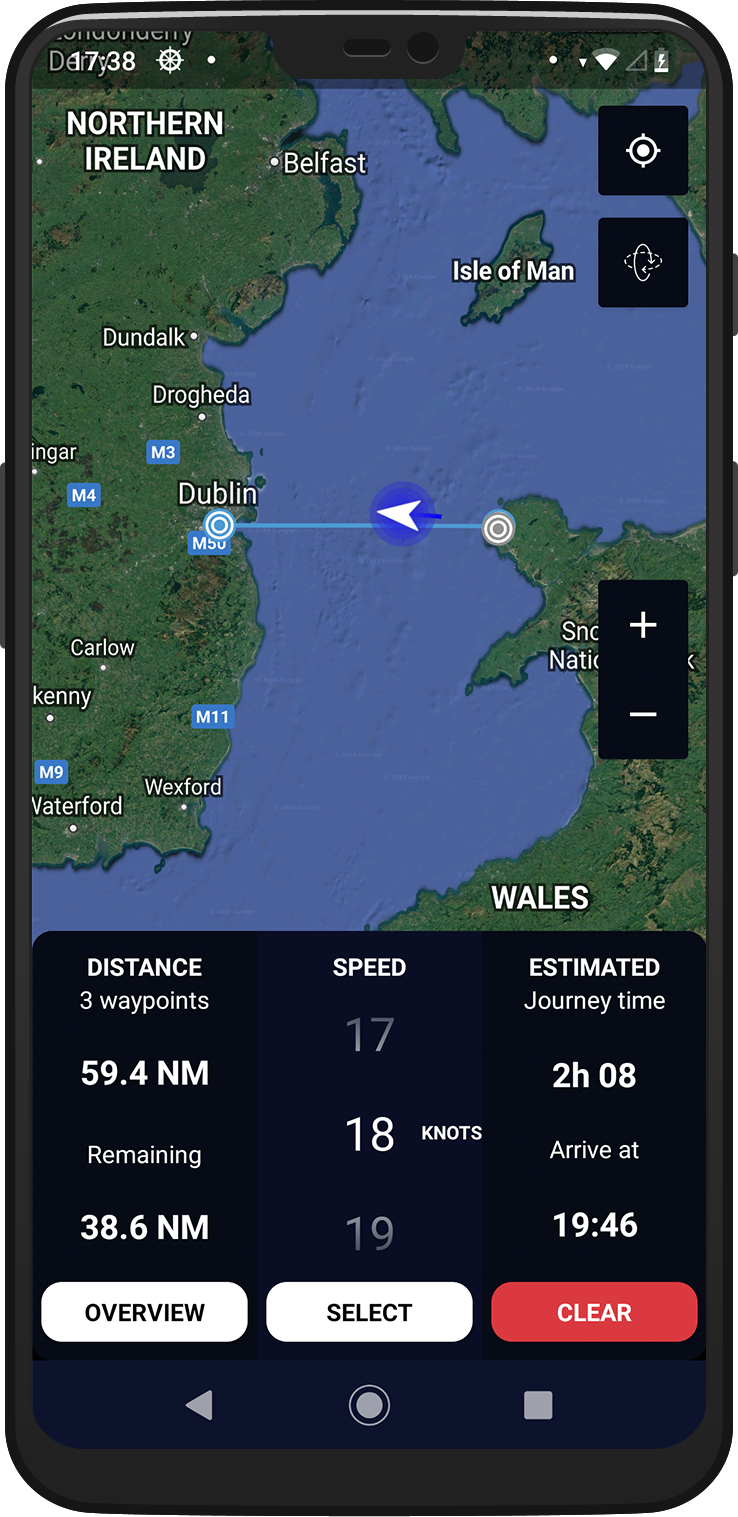 Make your voyages even more memorable. Record in real time and track the performance of your vessel.
Get a quick view of your speed and current position from the Wear OS smart watch app.
Share your live GPS position in decimal degrees and Degree-Minute-Second (DMS) notation.
Record your journeys

Keep records of your mileage, journey times, routes and performance.
Adjustable gauge

Adaptable to all kinds of road vehicles. Customise the speedometer scale from 40 to 960 units.

5 Speed Units

Seamlessly switch between meters/second, feet/second, knots, miles/hour and kilometers/ hour.

GPS Position sharing

Share your live GPS position in decimal degrees and Degree-Minute-Second (DMS) notation.
Satellite And Terrain Maps
Rediscover your journeys with all the great features provided by Google Maps.
Weather Awareness

Displays live hyperlocal weather information. Wind direction and speed, and warnings.

GYROSCOPIC MAP CONTROLS

Put your surroundings into perspective with the gyroscopioc map tool.

MAGNETIC COMPASS

A convenient compass to have at hand while navigating on water.

Top and Average Speed Display

Customise your virtual dashboard to your specific needs with the live statistics tabs.

Subscribe for only

£0.99

/ month.


Free trial for 14 days.
Subscribe via Google Play in the app.
Unlimited USAGE

Record and monitor journeys with no time restriction. You can also record in the background while using other apps.
journey time estimation
Calculate how long your journey will take according to your average or current speed.
Import and Export Records
Import and export your journeys and share between your other devices.
Walk Detection
Automatically pauses your journey recording when you step out of your vehicle.