Velocity GPS Dashboard offers three speed guidance options designed to help you to regulate your speed while driving, riding, or cycling. This guide explains the features available as of version 3.3 and up, and how you can use them to raise your awareness of changes in your speed.
Topics: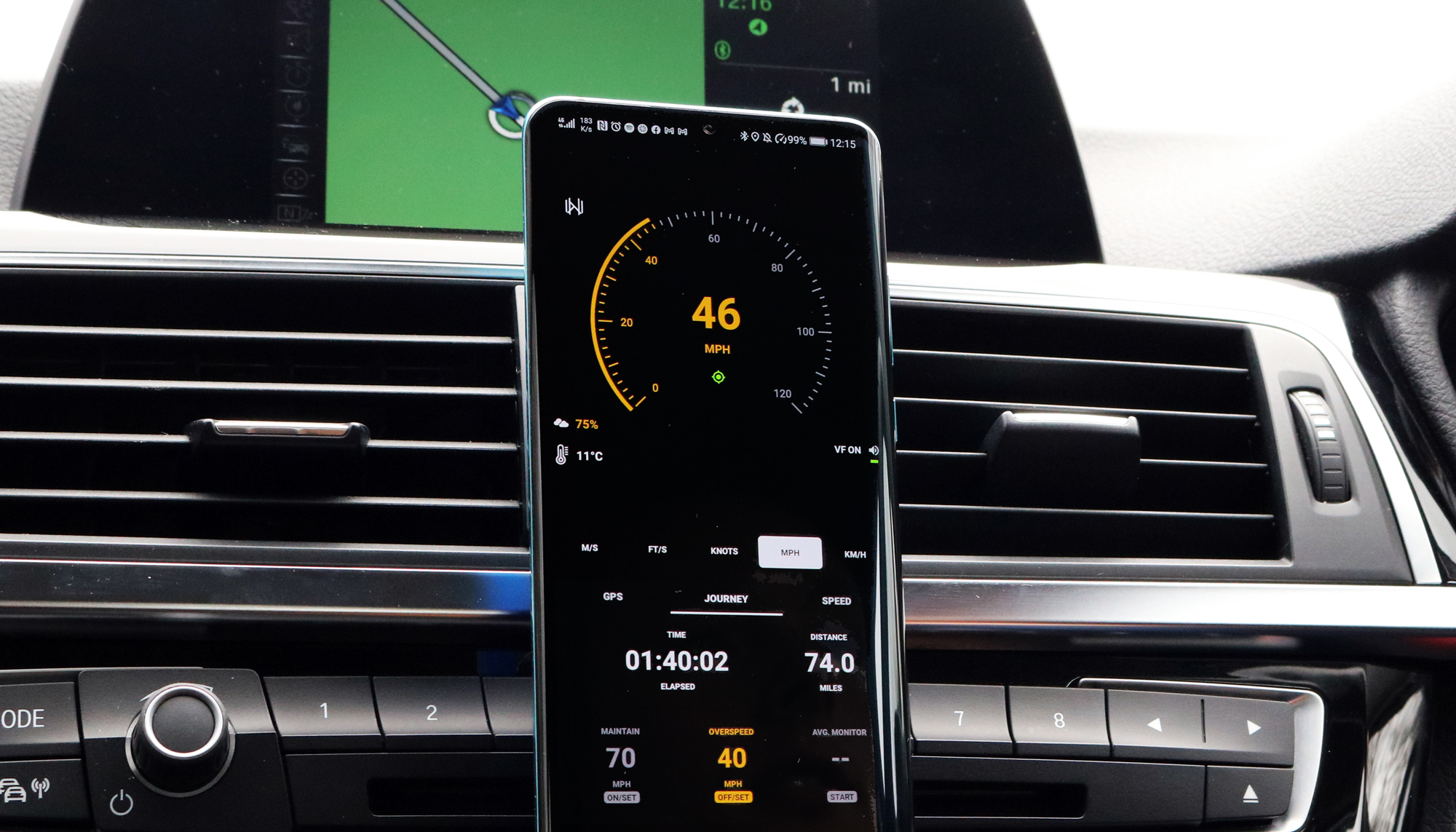 The guidance panel
The speed guidance section is located on the bottom-half of the control panel next to the speedometer on the main dashboard. Tap on one of the three buttons 'Maintain', 'Overspeed', and 'Avg. Monitor' to activate the feature.
The small label below the value describes what will happen when you tap or long-press the button, such as ON/OFF to toggle and SET to change your settings. For example, ON/SET means a single tap to switch on, and a long-press to set the speed with the control panel.

The speed guidance panel may be hidden by default. Open it by tapping on the […] icon, and set whether or not to hide it automatically by changing the 'compact layout' setting under the 'dashboard' section of the main settings menu.
Maintain speed mode
Best suited for cycling.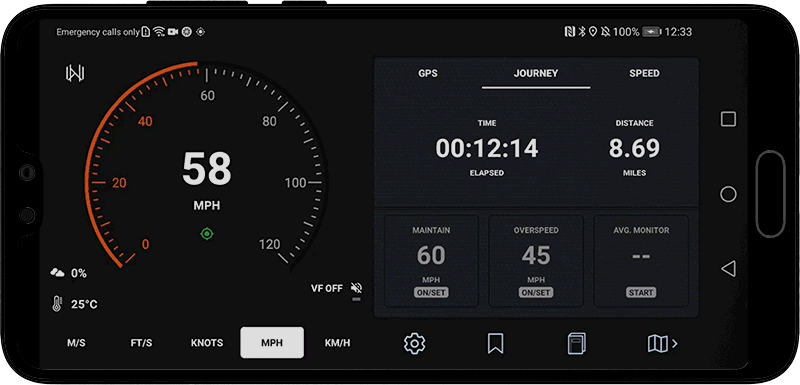 The maintain speed option lets you set a target speed, and then prompts you to speed up or slow down when you're approaching that speed. You can customise the 'activation range' to control when the alerting will start, and set 'target leeway' to allow slight deviations from your target speed without sounding a warning.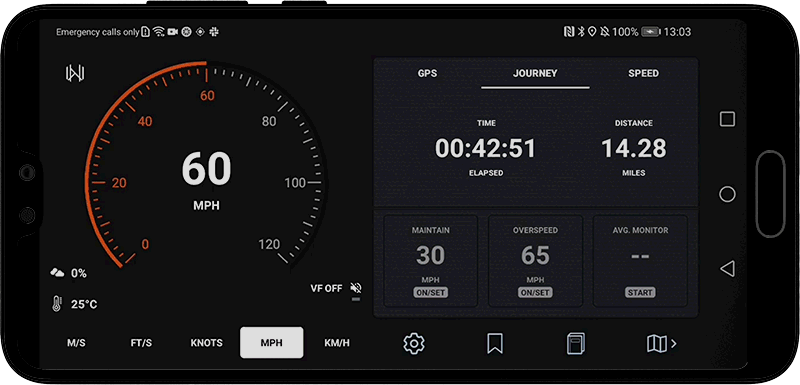 You can customise the following parameters in this settings panel. Tap on the 'activation range' or 'target leeway' labels on the left to adjust each range by percentage.
1. Target Speed
This is where you can set the speed you'd like to maintain, shown on the right when you open the maintain settings panel. While you are moving at your target speed, both the speedometer gauge and numbers will be shown in solid green.

2. Activation Range
The activation range is the speed range in which the guidance prompts will begin. While your speed is within this range the speedometer dial will turn green and numbers will be shown in white. You will be prompted to speed up and slow down with vibration and sound cues. Sound can be switched on or off in the main settings screen.
Example: If you've set to maintain 30MPH and your activation range is 15%, you will be prompted to speed up once you reach 26MPH and slow down if you exceed 34MPH.
3. Target leeway
Once you reach your target speed, you will not be prompted to speed up or slow down as long as you are within the range you've set as your target leeway.
Example: If you've set to maintain 30MPH and your target leeway is 5%, you will not be prompted to speed up or slow down as long as your current speed is within the target leeway range of 28 to 32 MPH.
Overspeed warnings
Best suited for all vehicles.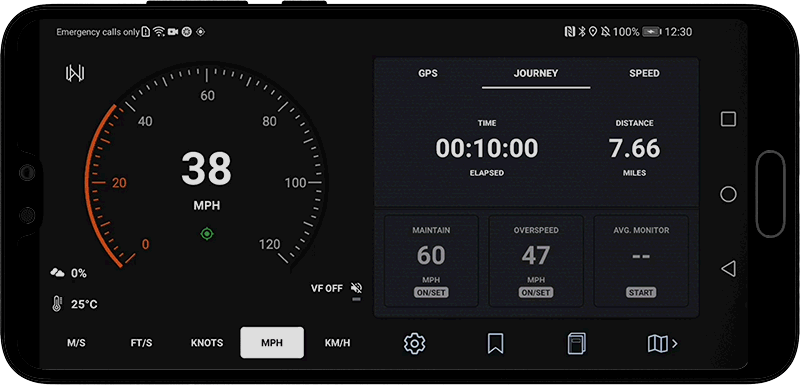 The overspeed option will warn you once you exceed a speed that you've set in advance. The speedometer will glow amber, sound alarms, and vibrate to warn you when you've in excess of your overspeed target.
If you tap on the overspeed control while in motion, alerts will sound when you exceed your current speed + 10% (33MPH if activated while moving at 30MPH).
Average Speed Monitor
Best suited for driving (UK average speed zones).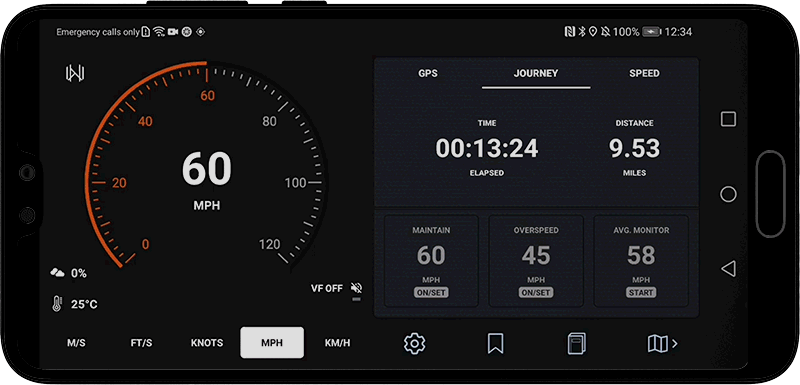 The Average Speed Monitor (ASM) lets you monitor your average speed throughout subsections of your journey. Start the timer at any time and your average speed will be calculated from then onwards.
Your average speed is shown on the speedometer in tangerine orange while in ASM mode so that it's distinguishable from your current speed. No vibration or alarms will be sounded in ASM mode.
🔗 Learn more about the Average Speed Monitor.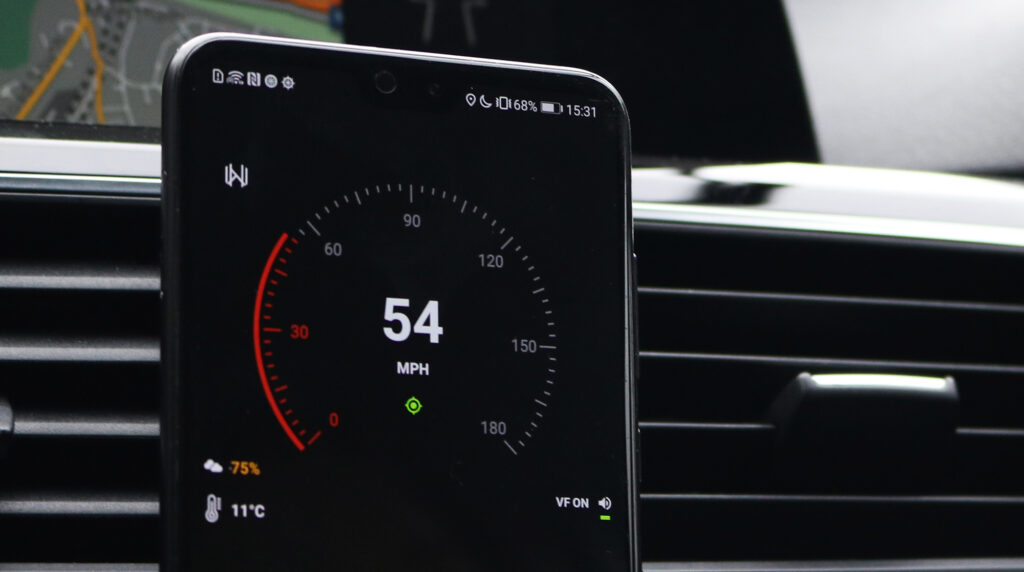 Velocity GPS Dashboard is part of the RAMS (Road Air Marine Speedometers) range of mobile and wearable GPS Dashboards tailored specifically to different modes of transport; Velocity for land vehicles and Mariner for marine vessels.
Velocity's speed guidance features are designed to help you to keep your speed in check whether you are driving, riding, or cycling. Be mindful of safety and ensure that your phone is secured in an upright position on your dashboard, windshield or handlebars before setting off.
We also recommend that you enable voice feedback, which will announce changes to these controls without you having to focus on the screen.
🔗 Learn more about voice feedback in Velocity 3.3.+.
🇬🇧 Refer to GOV.UK for the laws on using a phone or a sat nav when driving in the UK.
Download for Android and Wear OS on Google Play:

Follow us on Instagram, Facebook and LinkedIn.